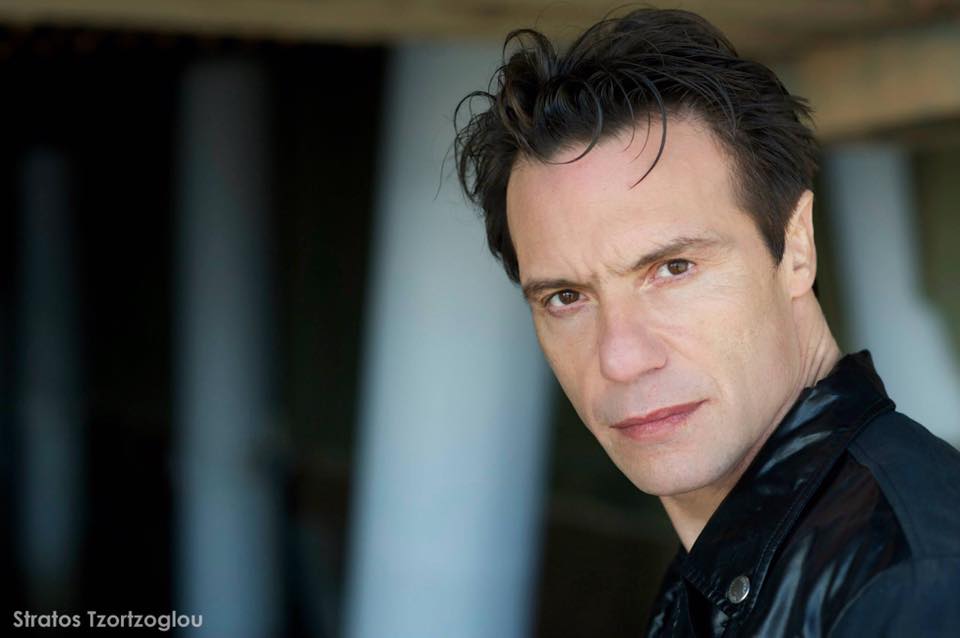 Stratos Tzortzoglou'seminars on acting in Lamia
Offered by Stratos Tzortzoglou a known, established actor and now a professional observer at the Actors Studio.
Stratos did his masterclasses in L.A with Ivanna Chubbuck (Brad Pitt ,Halle Berry ,Charlize Theron ,James Franco ,Sylvester Stallone) and with Aaron Speiser (Will Smith ,Jennifer Lopez ,Gerard Butler ,Marion Cotillard) who said about Stratos "In all my experience, I have never met an actor as dedicated and talented as Stratos".
The class will have Stratos Tzortzoglou detailing the greatest lessons he's learned through his momentous career—the struggles and successes that made him the household name he is today."
Education has always been an important part of my life," Stratos said in a statement.
"The teachers, mentors, and those who gave me opportunities along the way have made me feel blessed because they taught me the value of striving to be your best. I'm delighted to be part of this new wave of education.As my mentor Karolos Koun once said, "We must believe in miracles, in order for miracles to happen."
https://www.facebook.com/events/1670391309945508/?active_tab=highlights
• Introduction to Stanislavsky's System.
• Introduction to Strasberg's Method.
• Prepared monologue, song and scene work.
• Relaxation: the deliberate exploration of unwanted tension in the muscles of the body.
• Animal exercise, song and dance exercise
• First read of monologues and scenes.
• Concentration: an instant remedy for stage fright.
• Creation of the "fourth wall" to eliminate the awareness of the audience.
• Implementation of relaxation and concentration in the monologues and scenes.
• Sense Memory: remembering the five senses of the sensory impressions experienced by the individual.
• Implementation of the above mentioned techniques in the monologues and scenes.
• Private moment: the actor's ability to appear "private in public."
• Affective Memory: the use of specific sensory aspects to recreate a chosen personal experience associated with the emotional state desired for the character.
• Implementation of Private Moment, Affective memory in the monologues and scenes.
• Improvisation and the "magic if": it is the magic of the kind that children possess at play.Work on prior and given circumstances of the play using your own words with absolute honesty to build the bridge between you and the character you want to portray before the obligation to the text.
• Moment to moment and justification: all actions and behavior on stage or film must have a purpose and a freedom of spontaneity.
• Imagination, personalization, substitution: imagination is the basis for all that is new, fresh, young and original.
• Given circumstances: the author's story: place, sensory elements, relationships, time period.
• Continuing work on monologues and scenes.
Using and practicing the preceding techniques can help the artists to achieve the "creative state" from which creative work can develop.
We hope you will see the potential of this amazing journey and share in our celebration and in the process challenge a worldwide audience to recognize and connect with its own humanity.
ACTOR RESUME
Stratos Tzortzoglou appeared for the first time in Karolos Koun' Sound of the Gun by Loula Anagnostaki at Karolos Koun Art Theater. Apart from Karolos Koun, he has worked on stage with famed Greek directors Minos Volanakis, Jules Dassin, Spyros Evangelatos, Roula Pateraki, Andreas Voutsinas and Giannis Kokkos. He has also worked in film with directors such as Theo Angelopoulos, Michael Cacoyannis and Pantelis Voulgaris, and alongside actresses Catherine Deneuve, Irene Papas (Captain Corelli's Mandolin, Chronicle of a Death Foretold, Z, Electra), Lena Endre (The Girl with the Dragon Tattoo) and Sarah Douglas (Conan the Destroyer, Falcon Crest, Superman). Stratos recently relocated to New York City. You can contact him through , his manager Alan Morell (creativemanagementpartners) and his website stratostzo.com. The following titles are only a small selection of his extensive body of work.
CLASSICAL THEATER(selectively)
Aeschylus 'Prometheus Bound
(role :Prometheus)
Euripides' The Bacchae (role: God Dionysus) in the 12th European festival with National Theatre of Northern Greece
Euripides' Phoenician Women (role: Polynices) at Epidaurus Ancient Theater with Anna Sinodinou
Orpheus' Hymns (role: Orpheus) in Phedriades theatre in Delfi's festival
Liturgy of Orpheus (role: Orpheus) at Odeon of Herodes Atticus
Roast Beef (a modern adaptation of Oresteia trilogy) written by Leah Vitali (role:Agamemnon), co-starring with Sarah Douglas in Riverside Studios, London
THEATER. (selectively)
"Askitiki-the shout" by Nikos Kazantzakis
"Drain- Ekkenosis "by D. Dimitriades, directed by Yannis Kokkos (collaborator for 30 years with Antoine Vitez and Jacques Lassalle) in Stegi Grammaton kai Texnon
"Tree " by M. Laina, directed by Ch. Capsouli in National Theatre of Greece
"You are purpose and sheepdogs are dancing around you" by G. Ioannou, with Bijoux DeKant at Michael Cacoyannis Foundation (Director: Michael Cacoyannis)
"Elle " by Jean Genet, directed by Bijoux De Kant with The French Institute of Greece atMichael Cacoyannis Foundation
"Miss Misery"by Ts. Tzanatos at The Greek Art Theater – Karolos Koun
"Death of a salesman " by Jules Dassin (Academy Award – nominated, Best Directoraward at the Cannes Film Festival for Rififi)
FILM. (selectively)
"Landscape in the mist" by Theo Angelopoulos (Silver Lion Award in Venice Film Festival, Felix award for Best European Film of the Year)
"Ulysses's Gaze" by Theo Angelopoulos with Harvey Keitel (Grand Jury Prize and International Critics'Prize in 1995 Cannes Film Festival, as well as Felix of the Critics – Film of the Year)
"Pano, kato kai plagios" by Michael Cacoyannis, co-starring with Irene Papas
"One Love and the Other"by Eva Bergman, co-starring with Lena Endre
"The striker with number 9 "by Pantelis Voulgaris
"Montevideo, bog te video"by Dragan Bjelogrlic
"Three way week "by Bruno Coppola
"The Bacchae "by Bruno Coppola
"The Rainbow Experiment "by Christina Kallas.
TV. (Selectively)
• Oi frouroi tis Ahaias (1992)
• Ekptotos angelos (1997)
• To simadi tou erota (1998)
• Idiaitera gia klamata (2000)
• Le dernier seigneur des Balkans (2005) • Vals with 12 Gods (2012)
EXCERPTS FROM REFERENCE LETTERS
INGMAR BERGMAN compares Stratos to a stradivarius violin, adding that "the great actors are great instruments"
For three times Oscar winning director
ELIA KAZAN Stratos has the qualities of Warren Beatty.
JIM GIANOPULOS, chairman of 20th Century Fox, writes that "Stratos is destined for great things, he has a unique way of capturing the audiences with his charm and authenticity, and he has truly mastered his art form".
Palme d'Or winner THEO ANGELOPOULOS described Stratos as someone who "can absorb everything, turning this to an advantage. He is the ideal actor for this difficult game between beauty and recognition".
Five times Academy Award nominee.
MICHAEL CACOYANNIS describes Stratos as "that rare phenomenon, a natural who combines striking good looks with that special brand of talent which blends a fiery temperament with easy personal charm".
Academy award nominated director JULES DASSIN states that "Stratos' Biff Loman from Death of a salesman was the most passionate Biff I've ever seen".
• Oscar winning actress OLYMPIA DUKAKIS says Stratos "has a lot to offer to the American film industry in his unique sense of acting, combing talent, intuition, passion and determination".
REVIEWS
NEW YORK TIMES, St. Holden: "Orestes, whom Stratos Tzortzoglou imbues with a winning sweetness works for an itinerant theater company that has been traveling around Greece. Landscape in the Mist has already won many honors, and was the Greek entry for best foreign film in the Academy Awards last year. A 126-minute work of exceptional beauty."
LONDON TIMES: "With impeccable timing Greece's version of Brad Pitt, the actor Stratos Tzortzoglou makes his London debut as Agamemnon in Roast Beef at the Riverside Studios."
VARIETY, Emanuel Levy: "In Up Down and Sideways, the handsome Tzortzoglou lends reliable support as the sensitive son… credibly vivid and sympathetic."
STAGE BRITISH THEATRE GUIDE, John Thaxter: "The 80-minute show has its compensations, demanding courage, strength and extraordinary agility for the fight scenes, from handsome Greek film actor Stratos Tzortzoglou as Agamemnon".AWARDS
Best Actor at the Greek National Awards, 1994, for Pano, kato kai plagios, directed by Michael Cacoyannis (Zorba the Greek, Electra)
Best Supporting Actor, Stars De Demain, 1989, for Landscape in the mist, directed by Theo Angelopoulos (Travelling Players, Ulysses' Gaze, Weeping Meadow, Eternity and a Day)
STUDIES
• Karolos Koun Art Theater, Athens
• Aaron Speiser Acting Studio, Masterclass, CA, 2011
• Ivana Chubbuck studio, Masterclass, CA, 2012
· Lifetime Proffesional Observer at Actors Studio.