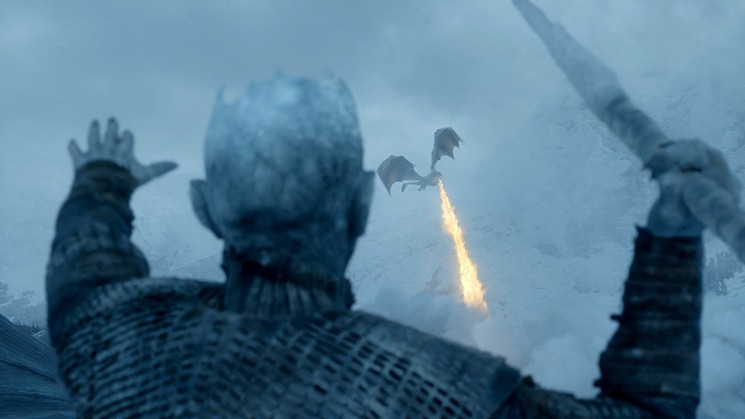 Who Will Die In 'GOT' Season 7 Finale? Character Survival Odds
With the "Game of Thrones" Season 7 finale already upon us, and officially only one season left of the mega-hit HBO series, fans are prepared to say goodbye to more than a large share of characters as the show marches to a conclusion. Sadly, that does mean some characters, both beloved and hated, will not make their way to Season 8.
Though Season 7 of the series has been full of action, it has been shockingly light on character deaths thus far, with no major players taken off the canvas just yet. In fact, the only characters to die so far in Season 7 were all secondary ones: Obara Sand (Keisha Castle-Hughes) and Nymeria Sand (Jessica Henwick) were the first characters to die, followed shortly after by their sister, Tyene Sand (Rosabell Laurneti Sanders), and her mother, Ellaria Sand (Indira Varma). Since then, the only named characters who fans really got to know who died were Olenna Tyrell (Diana Rigg), Randyll Tarly (James Faulkner), Dickon Tarly (Tom Hooper), Thoros of Myr (Paul Kaye) and Benjen Stark (Joseph Mawle).
However, though Season 6 did have a fair share of much larger character deaths before its own finale, the final episode proved to be the deadliest one, with several major characters taken out in quick succession after Cersei (Lena Headey) unleashed wildfire under the Sept of Baelor. It isn't entirely impossible to believe something similar could happen to wipe out an entire slate of characters during the upcoming Season 7 close. The question is however, which characters will meet their end?
Here's our predictions for which characters have the highest chances of dying in the Season 7 finale:
Characters Who Are Definitely Safe:
Melisandre (Carice Van Houten):
What is Melisandre's chance of death in the "Game of Thrones" Season 7 finale? Photo: HBO
Though she was speaking of her own death earlier in the season, the Red Witch is definitely safe going into Season 8. For now, she's the only character who knows the prophecy that will pit genuine fire and ice, and she's the only one who knows which characters need to be there. She's also been MIA since Jon (Kit Harington) arrived at Dragonstone, so it seems unlikely she'd be brought back for death in the finale.
Sansa (Sophie Turner):
Though her sister seems as though she's after her because of the scroll where she once pledged fealty to Joffrey (Jack Gleeson) when forced to, it seems as though Sansa will be safe to Season 8. Jon isn't heading back to Winterfell just yet, so her role as basically the Queen of the North is still necessary.
Arya (Maisie Williams):
What is Arya's chance of death in the "Game of Thrones" Season 7 finale? Photo: HBO
Like Sansa, Arya is safe. It will take a lot to actually kill her with her secret assassin skills she's picked up over the years.
Daenerys (Emilia Clarke):
For now, she's the only character who anyone knows to be "fire" and the fire is still crucial with the battle against the dead coming. The Mother of Dragons is definitely not going anywhere.
Jon Snow:
What is Jon's chance of death in the "Game of Thrones" Season 7 finale? Photo: HBO
After being brought back to life in Season 6, Jon Snow is guaranteed to be making it to Season 8. Plus, he still doesn't know the truth about his heritage, and if he is meant to die for real, it needs to be at some point after he learns the whole story.
Bran (Isaac Hampstead-Wright):
Whether you believe theories about Bran's identity or not, the new Three-Eyed Raven is definitely here to stay since he is the only character who knows the truth about Jon's parentage.
The Night King (Richard Brake):
What is The Night King's chance of death in the "Game of Thrones" Season 7 finale? Photo: HBO
Not only is he a main villain (depending on who you ask he's the biggest one), but it would be extremely underwhelming for him to die immediately after turning Viserion into his dragon mount.
Jaime (Nikolaj Coster-Waldau):
There are theories that have floated around for a while about Jaime's actual purpose for still being around. However, it's simple. After the cliffhanger at the end of episode 4, where fans were left to wonder if he'd died by drowning, he wouldn't be killed off now.
Cersei:
What is Cersei's chance of death in the "Game of Thrones" Season 7 finale? Photo: HBO
Like the Night King, she's the top villain on the show. While other villains have certainly fallen, including her own son, Joffrey, there still needs to be a human one left at the end of the series before the winner of the wars is officially declared. Since the only other major villain is the Night King and he's dead, it's safe to assume Cersei will make it through to Season 8.
Sam (John Bradley-West):
He doesn't know it yet, but he holds the keys to powerful information about Jon as well. Plus, he may now have claim to his family's fortune and home now that his father and brother have been roasted alive by Drogon.
Gilly (Hannah Murray):
It really wouldn't make sense to kill Gilly off, especially since she doesn't really play a huge part on the show. However, she is the one who discovered some information that may be important while at the Citadel, so she could very well become vital to the story going forward.
Gendry (Joe Dempsie):
What is Gendry's chance of death in the "Game of Thrones" Season 7 finale? Photo: HBO
We did not just get Gendry back from the world's longest rowboat trip just for him to randomly die. This isn't going to be another Osha (Natalia Tena) situation. Especially since Gendry has a useful skill that can be put to good use when it comes to the war against the Night King, since he knows how to make weapons, and could easily make ones out of dragon glass and Valyrian Steel if he's lucky enough to get his hands on some.
Characters Who Have Questionable Fates:
Tyrion (Peter Dinklage):
What is Tyrion's chance of death in the "Game of Thrones" Season 7 finale? Photo: HBO
While losing the only Lannister who was ever really worth caring about from day one would be devastating, Tyrion's purpose on the show is beginning to wane. Plus, he is headed to the Dragonpit for the big summons in the upcoming finale. If Cersei wants to get revenge on him for killing their father, now is the time for her to do it.
Varys (Conleth Hill): 
Melisandre's prophecy about his death earlier this season couldn't have been a coincidence. It was definitely a foreshadowing of his eventual fate. The only question is whether or not that fate will befall him now or later.
Tormund (Kristofer Hivju):
What is Tormund's chance of death in the "Game of Thrones" Season 7 finale? Photo: HBO
Tormund has returned to Eastwatch, which is the area of the Wall the Night King and his army were marching towards. Considering the newest weapon in the Night King's arsenal, it seems likely he will use it to find his way past the Wall. When he does that, Tormund and the other remaining men at Eastwatch don't stand a chance.
Bronn (Jerome Flynn):
Another secondary character whose death doesn't really serve any purpose, but neither does the character.  He is technically due for some sort of punishment for orchestrating that meeting between Jaime and Tyrion, so it's possible he could be punished with death for his actions, though it would seem like an unnecessary waste of time.
Jorah (Iain Glen):
What is Jorah's chance of death in the "Game of Thrones" Season 7 finale? Photo: HBO
Though he would give his life for Dany, it seems unlikely that Jorah was cured of his greyscale just so he could go beyond the wall and make it back, just to randomly die now. He will likely make it to Season 8.
Characters Who Are Definite Goners:
Petyr Baelish (Aidan Gillen):
What is Littlefinger's chance of death in the "Game of Thrones" Season 7 finale? Photo: HBO
For once, one of Littlefinger's plans is going to backfire on him in spectacular ways. He's trying to pit the Stark sisters against one another, and it just doesn't seem like there's a chance that'll end well for him.
Theon Greyjoy (Alfie Allen):
What is Theon"s chance of death in the "Game of Thrones" Season 7 finale? Photo: HBO
Theon has one thing left he needs to do, He needs to either find and rescue, or avenge his sister, Yara (Gemma Whalen). Once he does that, Theon's purpose on the show is over. He's not really someone who can advance the plot any longer, and he can't even be a useful ruler of the Iron Islands since he can't produce any heirs.
Grey Worm (Jacob Anderson):
What is Grey Worm's chance of death in the "Game of Thrones" Season 7 finale? Photo: HBO
While he would seem safe since he was still alive at Casterly rock after he the Unsullied took it for Daenerys, hope seems to not be in Grey Worm's corner. The tipping point that suggested his death was coming soon was his finally breaking down and making love with Missandei (Nathalie Emmanuel). Anytime something good like that happens for a good character, something bad happens to them or the person they love. His situation is more precarious than Missandei's, which means his chance of death is much greater.
What do you think are these character's fates? See how they fare when the "Game of Thrones" Season 7 finale airs Sunday, Aug. 27 at 9 p.m. EDT on HBO.
Source: ibtimes.com