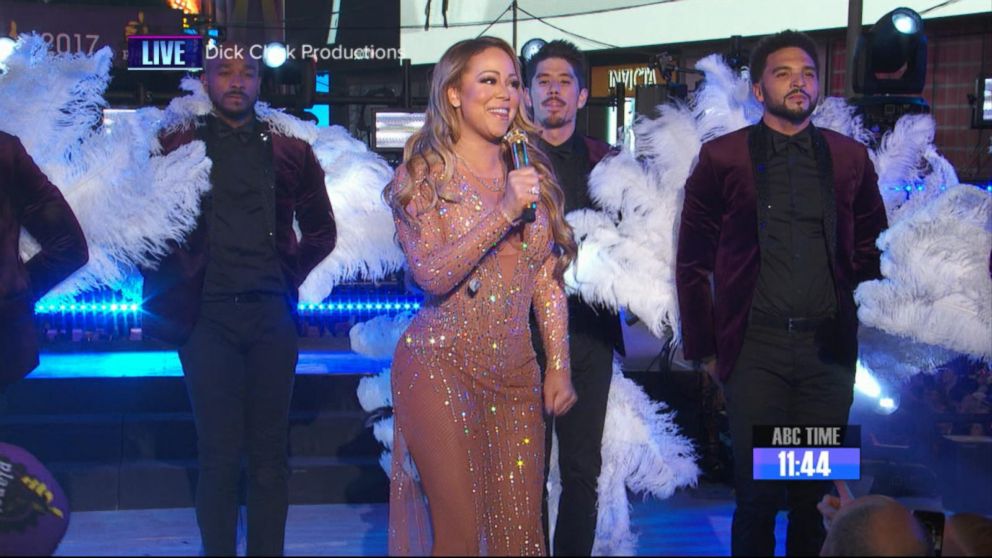 03/1/2017 | Category:
Music
Reps for Mariah Carey Say Singer's 'Ear Piece Was Not Working' During 'New Year's Rockin' Eve' Performance
Mariah Carey said a malfunctioning ear piece was to blame for her performance during Dick Clark's "New Year's Rockin' Eve with Ryan Seacrest," in which she at times stopped singing altogether.
Millions of TV viewers watched Carey perform her three-song set during the special which ran on ABC stations, but many couldn't hear the singer — especially during her second song.
The singer successfully opened her set with a rendition of the New Year's classic "Auld Lang Syne," but while she was performing her 1991 hit single "Emotions," she abruptly stopped singing, though her dancers continued performing behind her.
"We can't hear," Carey told the crowd in Times Square, trying to continue. "We didn't have a sound check, but it's New Year's, baby. It's OK, guys."
Refusing to sing the song, she said, "I'm trying to be a good sport here."
Carey, 46, finished her set using a pre-recorded track of "We Belong Together."
The singer seemed to brush off the mishap hours later on Twitter.
"S— happens," she wrote. "Have a happy and healthy new year everybody! Here's to making more headlines in 2017."
Still, reps for Carey at BWR told ABC News that the singer was dealing with many technical difficulties.
"Last night, just prior to taking the stage, Mariah alerted production and the stage managers that her ear piece was not working," the statement read. "They told her it would be fine once she was on stage. However, that was not the case and they were again told that her ear piece was not working. Instead of endeavoring to fix the issue so that Mariah could perform, they went live."
And although Carey said onstage that she "didn't have a sound check," her reps said that the singer did have a rehearsal before her big performance.
"Mariah rehearsed at 3:00 p.m. yesterday with no sound issues," the statement continued. "She was intent on honoring her commitment and therefore took the stage essentially flying blind. It is not uncommon for artists to sing to track during certain live performances. Any allegations that she planned to lip sync are just adding insult to injury."
A rep for Dick Clark Productions denied any implication that it would "intentionally compromise the success of any artist."
"We pride ourselves on our reputation and long-standing relationships with artists," the rep said in a statement. "To suggest that dcp, as producer of music shows including the American Music Awards, Billboard Music Awards, New Year's Rockin' Eve and Academy of Country Music Awards, would ever intentionally compromise the success of any artist is defamatory, outrageous and frankly absurd. In very rare instances there are of course technical errors that can occur with live television, however, an initial investigation has indicated that dcp had no involvement in the challenges associated with Ms. Carey's New Year's Eve performance. We want to be clear that we have the utmost respect for Ms. Carey as an artist and acknowledge her tremendous accomplishments in the industry."
Source: abcnews.go.com