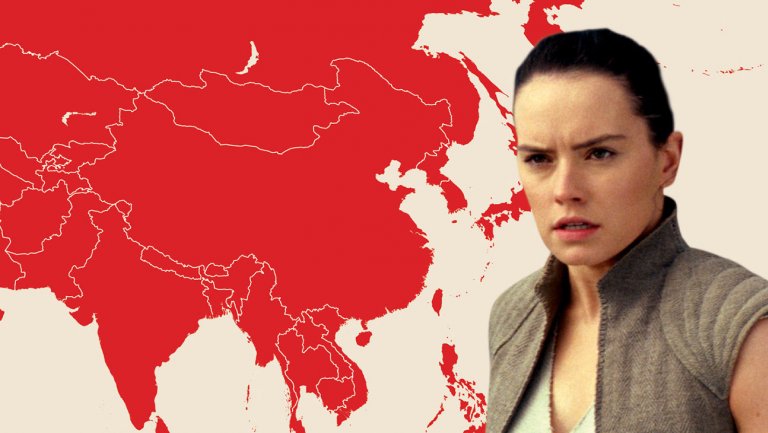 Why Disney's 'Last Jedi' Mind Trick Isn't Working in China
'Episode VIII' leans heavily on references to the originals, and that doesn't play with young audiences in the world's No. 2 market.
Star Wars: The Last Jedi suffered one of the worst second-weekend declines the Chinese box office has ever seen. The film's debut of $28.7 million was already viewed as disappointing, but its 92 percent plummet to just $2.4 million in weekend two was arguably alarming.
"The Last Jedi has already been completely pulled from cinemas here," Jimmy Wu, chairman of nationwide Chinese cinema chain Lumiere Pavilions, told The Hollywood Reporter by phone from Yancheng, a mid-sized city representative of the sorts of towns where the bulk of China's box-office growth is now generated. "It's performed much worse than we could have expected."
The Disney and Lucasfilm tentpole — North America's biggest movie of 2017, with a domestic total of $591 million and counting and a massive worldwide total of $1.27 billion — may now finish in China with less than $50 million, which would place it way down the list at around 50th place in last year's rankings, behind disappointments like Valerian ($62 million) and Geostorm ($65.6 million).
The problem for Disney isn't just that its most valuable film franchise is doing poorly in the world's second-largest film market — it's that the situation appears to be worsening with each release. The Force Awakenstotaled $124 million in China in 2016 (a number already well below Disney's forecasts, sources told THR at the time), and franchise spinoff Rogue One earned $69 million in 2017 — a total Last Jedi almost certainly won't match.
Beijing-based market research firm Fanink has been conducting exit research for all major Hollywood releases at Chinese cinemas since 2014, asking filmgoers to rate the movies in categories such as likability, whether they would recommend the film, and how it matched their expectations.
"We've seen the Star Wars franchise downgrading across all key measures," says James Li, Fanink's co-founder. "Force Awakens was generally above average, Rogue One was about average, and Last Jedi was below average in every category — and you see this reflected at the box office."
Partly explaining the erosion, The Force Awakens benefited from pent up curiosity about the Star Wars brand, while Rogue One generated some local excitement with the meaningful roles and well received performances of its Chinese co-stars, Donnie Yen and Jiang Wen.
Last Jedi had neither of these factors going for it, and it also had the bad luck of opening opposite The Ex-File 3: The Return of the Exes, a local romantic comedy that exploded into a surprise hit ($275 million in three weekends).
As many have pointed out, a large part of Star Wars' struggles in China stem from the fact that the original three films never received a wide release in the country (When Star Wars: A New Hope came out in 1977, China was deeply impoverished and only beginning to recover from the ravages of the Cultural Revolution).
"Because of the complex characters and themes, the prequels, and all of the multi-generational layers that are part of the culture, or cult, of Star Wars, it's been hard for young Chinese filmgoers to get into the franchise," says Li.
How Disney has chosen to address this unfamiliarity is perhaps even more relevant than the original unfamiliarity itself, insiders say. After all, the first five films in The Fast and The Furious franchise were never released theatrically in China either, but that didn't stop the seventh and eighth installments from becoming the market's two biggest Hollywood imports ever ($390 million for Furious 7 and $392 million for The Fate of the Furious). Similarly, the original three Jurassic Park movies never showed in the Middle Kingdom, but Jurassic World earned $228 million there in 2015.
But whereas the producers of those sequels and reboots opted for maximal ease of access, requiring no prior knowledge for each iteration, the new Star Wars films lean especially heavily on references and nostalgia for the originals.
The most stirring moment of Force Awakens for many U.S. fans, for example, was the Luke Skywalker reveal at the very end. Without already adoring the original films, most Chinese filmgoers could only wonder: So who is this old guy, suddenly, and why are we supposed to care?
"Star Wars has no legacy here," says Wu. "It will require something fresh to win back the Chinese audience."
Source: hollywoodreporter.com