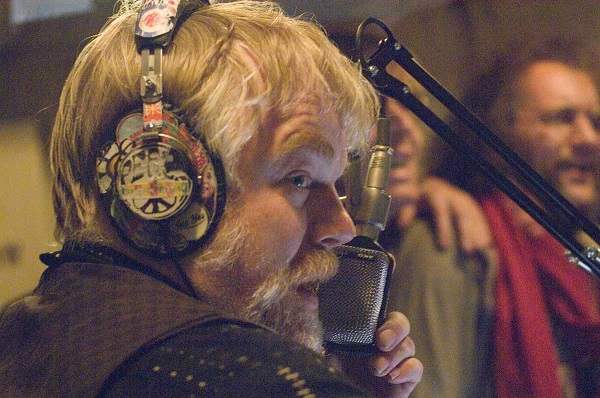 15 Great Movies That Will Bring You Back To The Radio Days
Before television, there was radio. Since the 1920's until the full development of television, radio has been the biggest thing. It was not only the main source of information, but it was also the main source of entertainment: popular songs, radio plays, comedic sketches and many more.
Back then, people use to call the radio a work of sorcery and everybody who was anybody used the radio to promote and to inform; from entertainment-shows in America to the war messages in Britain transmitted from the Royal Family and the War Cabinet to the common people.
Unfortunately, in present time, the radio is mainly a source of information for the people who are driving a lot and its activity has been moved, mostly, to the internet. Still there were quite a few decades when radio ruled the world. Here are 15 great films about the radio listed chronologically.
1. Play Misty for Me (Clint Eastwood, 1971)

This film marks the directorial debut of actor Clint Eastwood. It's not as well-known as his later masterpieces but it is still a very enjoyable thriller. The story is one of obsession and fanaticism: Evelyn Draper (Jessica Walter) is radio personality Dave Garver's biggest fan. Garver is pretty well known amongst the radio listeners of the California area.
Besides playing music, he often incorporates poetry in his radio program making him somewhat special. Evelyn calls every night to request her favorite song: jazz standard "Misty". After a one-night stand between the two Evelyn turns into a veritable stalker manifesting all the symptoms of borderline personality disorder.
On a different key interpretation the film shows the huge impact that radio had in the early 70's and the passions (healthy and unhealthy) it created. Beneath its thriller structure the film has a lot of great jazz music in it thanks to Eastwood's love for the genre. The music comes across very strong throughout the movie and the songs that form Garver's radio playlist form a very beautiful soundtrack to this classic thriller.
2. Radio Days (Woody Allen, 1987)

The powerful nostalgia factor in "Radio Days" can easily suffer comparison to some of Federico Fellini's best works like "Amarcord" or "Roma." Just as the Italian masterpieces mentioned Woody Allen fondly recalls his childhood and its strong connection to the radio.
In the introductory narration, Allen makes a quick recap of his favorite radio shows and radio personalities while growing up. He then moves smoothly to the story itself: a series of vignettes involving the members of a modest Jewish-American family in Rockaway Beach, New York. All the members represent a stereotype that can found in any family: the housewife mother, the offish father, the restless children and the single aunt.
All of these personalities put their differences aside when it comes to the radio. To them, listening to the radio is a form of escaping the harsh reality; they do it not just by listening but also by gossiping radio celebrities and sports legends of the day and lively participating in game shows.
In parallel with the family story, we see the rise of fictional radio celebrity Sally White (Mia Farrow) who comes to New York to make it big but must be willing to always compromise. The result of all these plot-lines interacting is a nostalgic, sometimes sad, but beautifully painted picture of the golden age of radio under the genius brush of Woody Allen.
3. Good Morning Vietnam (Barry Levinson, 1987)

"Good Morning Vietnam! This is not a test, this is rock'n'roll". Of course, everybody recognizes this phrase ad-libbed by Robin Williams; much like all his lines in this movie. "Good Morning Vietnam" is a powerful anti-war film but it is also one of the most well-known supporters of the power of the radio.
The Vietnam War was a tough time for many Americans and the radio was pretty much the only comfort they had; the one thing that could put a smile on their face. This is exactly the job of Adrian Cronauer (Robin Williams), a radio disk jockey newly transferred into Vietnam to cover the morning section of the United States' Army Radio Programming.
Cronauer is unanimously loved by the troops and is mostly hated by his superiors for the same thing: he doesn't follow orders. He plays loud rock'n'roll music (although he is forbidden to do so), he makes fun of almost anybody (including United States officials) but, most importantly, he reads censored information to the public.
Still Cronauer has some supporters within the army's leadership who truly believe his buffoonery can keep the soldiers' morale up. With all its comedic effects if you strip this movies to its core it is a serious story about the marvelous benefits that the radio brought to some menacing times.
4. Talk Radio (Oliver Stone, 1988)

When you think of Oliver Stone you either think of war movies like "Platoon" or "Born on the Fourth of July" or political films like "JFK" or "Nixon"; you think elaborate plots and big-scale scenarios. You don't necessarily think of small simple thrillers like "Talk Radio" and that's too bad because this is a very well-crafted film.
Based on the play of the same name written by Eric Bogosian the film tells the story of radio personality Barry Champlain (Eric Bogosian) who hosts his own show in Dallas, Texas. Barry is very popular amongst his listeners but is also very controversial because of his caustic sense of humor, knack for cutting people down and liberal political views. As his show becomes more and more popular the hatred towards him and his style increase.
Although at first he doesn't seem to mind Barry eventually becomes overwhelmed by the wave of hatred towards him just as his local show is about to become national. Aside from Bogosian's play Oliver Stone also based his script on the events that led to the killing of real life radio host Alan Berg.
Stone's film does not keep an objective eye on its subject but consciously gets involved in the action fighting for freedom of speech. This film is yet another statement on the power of words and their medium; in this case the radio.
5. Pump Up the Volume (Allan Moyle, 1990)

If anything "Pump up the Volume" is a great way to get into the alternative music of the late 80's, early 90's; when Mark Hunter (Christian Slater), a rebellious high school student in a sleepy town, starts his own pirate radio he intends just that: to get people to listen to various genres of music otherwise ignored. He plays Primal Scream, The Jesus and Mary Chain, Henry Rollins, The Pixies etc.
As his show on the pirate radio becomes somewhat popular within his whereabouts he begins to speak his mind about everything that is wrong with contemporary American society. Of course Mark uses a nickname for his radio persona and nobody quite knows who is the man behind the voice of "Hard Harry" or "Happy Harry Hard-on".
As is expected from such a scenario things get out of hand and investigations are beginning to be made concerning the rude radio host. "Pump up the Volume" is a great mixture of action, comedy, drama all garnished with some pretty bad-ass music.
6. Straight Talk (Barnet Kellman, 1992)

Everybody loves a good underdog story and this film just might be it especially, when you combine the story with some good old fashioned music. The film follows the life of Shirlee Kenyon (Dolly Parton), a down to earth country girl who works as a dance instructor somewhere in Arkansas. She is soon fired from this job because as it turns out she spends more time giving advice than teaching dance.
After the demise of her job, she is determined to leave her small town and try to make it in the big city: namely Chicago. Through a series of bizarre coincidences and funny mistakes, she lands a job as a radio talk show host on a major broadcasting network. It is there that her advice giving talent really shines as her show becomes more and more popular.
Of course, her rise to the top faces different obstacles in the form of envies and jealousies from her male co-workers but as the movie is determined to show, nothing can stop Shirlee's rise to the top.
7. Airheads (Michael Lehmann, 1994)

This cult film fulfills the dreams of all the struggling underground bands in the world who dream of one day becoming wide-known and getting their songs played on the radio. "Airheads" is the story of a fictional band named The Lone Rangers who face rejection after rejection from music producers who won't even touch their demo tape.
Fed up with the life of underground musicians the three rockers come up with a plan: to break into the local radio station and get their demo played on the air. However, their plan escalates to a bigger level when they end up holding everyone in the station hostage once the DJ refuses to play their tape.
Using plastic guns, guitarist and vocalist Chazz (Brendan Fraser), bassist Rex (Steve Buscemi) and drummer Pip (Adam Sandler) get their 15 minutes of fame when every news broadcast in Los Angeles turns attention to their desperate attempt to get their music heard.
"Airheads" is filled with classic rock tracks and even features short cameos from music legends such as Rob Zombie and Lemmy. Despite being destroyed by critics and receiving a negative feedback the movie gained a considerable cult following over the years and developed quite a large fan base…guess their message was finally heard.
8. Telling Lies in America (Guy Ferland, 1997)

Karchy Jonas (Brad Renfro) is a teenager in high school who is just figuring out the world he is living in and his place in it. His family immigrated to the United States from Hungary when he was 10 years old and now (7 years later) Karchy feels like a real American; he also feels it's time to find his place in the world.
One day he meets radio personality Billy Magic (Kevin Bacon) who takes him under his wing. Things are looking great for young Karchy and his future in the radio business – now with Billy Magic at this side. Unfortunately, he soon learns that the local authorities are after Billy Magic, after he accepted a bribe from record companies to give their songs air time.
Karchy soon learns that nobody's perfect – not even his idol – and if you want to survive in this cutthroat business, you have to lie through your teeth. He then begins to wonder if this really is the path he wants to follow in life. This is one of the few stories about the dark side of the radio and the temptations of being dishonest.
Karchy may have adapted well to the American lifestyle – to his conservative grandfather's shock he has his breakfast in the form of a Coca-Cola – but he may not yet be ready to sacrifice his integrity to get ahead. In the end, maybe Billy Magic was right: radio makes you radio breaks you.
9. Private Parts (Betty Thomas, 1997)

Howard Stern is what every music geek dreams of: he can play whatever music he wants and say whatever he wants to say…and people love him for it. But becoming Howard Stern wasn't easy…not even for Howard Stern. This biographical comedy details Stern's rise to the top.
From his early local DJ-ing days to his heydays as "Fartman" (his alter-ego) on MTV, Howard Stern has been through a lot and offended many people on the way. His first stunt, as presented in the movie, is getting a girl sexually aroused by asking her to place the speaker of her radio between her legs and turn up the volume. While she is doing that, he will talk so that the speaker can produce vibrations.
This "stunt" causes a riot but also captures the attention of radio executives who see his straightforward approach as the exact thing needed to shake things up. From there on then is just one offense after another; but the people love it and just can't get enough of the Howard Stern phenomenon.
"Private Parts" features Howard Stern as Howard Stern as well as cameos from famous musicians (because rock music is a huge part of this film) like Ozzy Osbourne, Slash, Ted Nugent and Dee Snider. If you are a fan of Howard Stern and rock music, this movie is not to be missed.
10. Lavorare con Lentezza (Guido Chiesa, 2004)

Unfortunately, there are not a lot of European feature films about radio (there are plenty of documentaries though). Even though this Italian gem is a feature film, it is shot to look like a documentary because it is based on actual events that took place in the 70's.
The story is the true story of Radio Alice, a pirate radio in Italy whose voice could not be silenced for a long time. The whole concept of Radio Alice was based on freedom of speech: absolutely anyone could come in and speak their mind on the radio.
Because of the two founders' political left-wing affiliation the radio caused a lot of trouble among authorities, especially when its influence started to grow among listeners more and more keen on joining the autonomism movement. The title can be translated as "Working Slowly", which is very fitting for the pace and feel of the film.
11. The Upside of Anger (Mike Binder, 2005)

"The Upside of Anger" stays true to Mike Binder's bitter-sweet style of making movies. The film is about a woman named Terry (Joan Allen) and her four daughters. After her husband's leaves her for another woman Terry finds her consolation in alcohol and in Denny (Kevin Costner), a former baseball player now a radio talk show host.
Terry and Denny bond in their mutual appreciation for alcohol and in their anger on life. Denny doesn't particularly like his job as a radio talk show host constantly insulting his fewer and fewer listeners and hanging up on them. The two become very close and Denny does his best in getting to know Terry's daughters. She helps them in their childhood and teenage goals and gradually wins them over.
The problem is that Terry is too scared to commit again after her failed marriage and keeps postponing the final step of the relationship. Eventually time heals all wounds and as family secrets start to be revealed, Terry realizes that her anger might be misguided.
12. A Prairie Home Companion (Robert Altman, 2006)

It seems only fitting that Robert Altman's swan song is a film about the radio's swan song. "A Prairie Home Companion" takes its title form a long running radio show of the same name that has been on the air since 1974. In the true Altman-esque fashion the movie features a lot of characters (all played by famous actors), that interact naturally, talk over each other, creating a well -studied chaos.
The plot follows the possible demise of the show due to the decline of radio entertainment. All the stars of the show come together to put up the biggest performance the radio has ever seen wanting to go out with a bang.
On the night of this extraordinary performance, the cast receives two opposite visits: one from a representative from the radio franchise who was come to decide whether or not should stay on the air and one from an angel who has come to comfort the people who gave their sweat, blood and tears for the show. Despite their differences, the people involved try to get along in order to prove to company man, the world and themselves that they deserve to go on entertaining.
13. Talk to Me (Kasi Lemmons, 2007)

In the 1960's, ex-convict Ralph "Petey" Greene (Don Cheadle) lands a job at a Washington D.C. radio where he becomes extremely popular.
Greene's radio talk show covers a lot of delicate subjects of the time such as equal rights and freedom of speech. His show touches a lot of souls (especially in the African-American community) but also rubs a lot of people the wrong way. His friendship with his manager Dewey Hughes (Chiwetel Ejiofor) is also threatened when the two clash over ideas and principles.
On top of the social presure and his love-hate relationship with Dewey Petey has his own demons to battle in the form of drug and alcohol addiction. The film is biographical and doesn't cut any corners in presenting Ralph "Petey" Greene and his radio talk show exactly the way they were: edgy, provocative, not always right but always from the heart.
14. The Boat that Rocked (Richard Curtis, 2009)

If there was ever a film that perfectly combines comedy with rock music it is definitely this one. With the exciting 1960's as its setting, the film tells the story of members of a British pirate radio broadcast that live on a ship anchored somewhere in the North Sea. The group faces constant threats from the British government but their love for rock music overcomes every shortcoming of their illegal existence.
The film features an ensemble cast amongst whom: Bill Nighy (the godfather of the radio), Phillip Seymour Hoffman (the American DJ), Tom Sturridge (the new kid on the boat), Rhys Ifans (the legend of the radio) and Kenneth Branagh (the villain of the film). But putting aside the comedy and the adventorous life of the crew this film is all about the music.
For someone with no knowledge of music in the 60's this is a perfect introduction; for someone who has the knowledge of the music of those times it is a savory trip on memory lane. Amongst the wonderful music that can be heard on this film are The Kinks, The Rolling Stones, Martha Reeves & The Vandellas, Jeff Beck, The Who and many more.
15. Parlez-Moi de Vous (Pierre Pinaud, 2012)

"Parlez-Moi de Vous" (translated into "Talk to Me about You") is very nice bitter-sweet comedy about a reclusive 40 year old female radio host who offers her advice to female callers but is incapable to apply these advices to her own life. Claire Martin is an expert when it comes to guiding her callers' lives; she gives exactly the right advices to any situations presented to her. As is the case with most advice-givers, she does not follow them in her real life, which leads to chaos.
All her endeavors (romantic or just personal) ultimately end up in failure. Her only goal seems to be finding the identity of her mother who abandoned her as a small child. This film is a very nice little comedy that is very straightforward with a lead performance that is very convincing; there are no surprises or plot twists in this film…just good old fashioned life.
Source: tasteofcinema.com