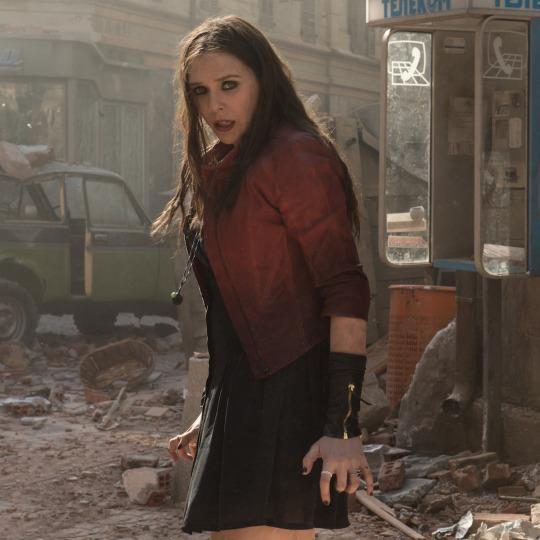 4 Reasons Why the Scarlet Witch Should Get Her Own Spinoff Movie
Black Widow gets all the headlines. Marvel's resident super-assassin has had her honor besmirched twice now by Jeremy Renner; she's still suffering from an extreme lack of merchandise compared to her fellow Avengers; and most importantly, she still hasn't gotten her own standalone Marvel movie. But we have a suggestion that might avoid all of these controversies: Give Black Widow's mystical counterpart and the newest Avenger, the Scarlet Witch, her own movie first.
Marvel has a knack for creating powerful and enigmatic women superheroes. Like Widow (Scarlett Johansson), Witch (Elizabeth Olsen) is just plain cool. In Avengers: Age of Ultron, she mentally cripples almost all of the Avengers with some spooky hallucinations and then becomes a key ally during the climactic battle using her energy blasts. (Olsen had a movement coach to help her perfect those fluid, magical moves). She's also got a tragic backstory: The death of her parents gives her depth, and informs her more emotion-based powers. There's no doubt Widow also has a heartbreaking backstory, but Witch brings some extra magic to the table that could better conjure box-office gold. Here are four reasons we think she deserves a spinoff movie:
1. It could appeal to Twilight fans.
With her glowing eyes and mesmerizing powers, the Witch would fit in well with Bella Swan and her clan of magnetic teenaged vampires. A Scarlet Witch movie could fill the romantic, supernatural void left by the Twilight series. (And remember how much that female-led sagamade at the box office?)
2. It could also be Marvel's horror movie.
Unlike the physical powers displayed by her Avengers counterparts, Scarlet Witch's mind magic lends itself to a completely different tone than we're used to seeing from the Marvel Cinematic Universe. In the same way that Guardians of the Galaxy is Marvel's goofier entry, a Witch movie could be its more ghoulish one. Remember those mouthless little girls she conjured inside Black Widow's mind? Or when she terrified Tony Stark with the dreadful sight of the crumpled Avengers team? The disturbing dreams she implanted in Thor, Cap, and the others totally freaked them out — and sent chills down our spines.
3. Elizabeth Olsen is a star on the rise.
The younger sibling of Mary-Kate and Ashley, Olsen broke through with a lauded performance in the 2011 indie drama Martha Marcy May Marlene. She had another high-profile role in last year's Godzilla, and will star opposite fellow Marvel movie costar Tom Hiddleston in this year's Hank Williams biopic, I Saw the Light. But it's in Ultron that we saw her real screen power: charismatic, intense, and more than capable of holding her own among the constellation of A-list movie stars in the cast.
Source: yahoo.com