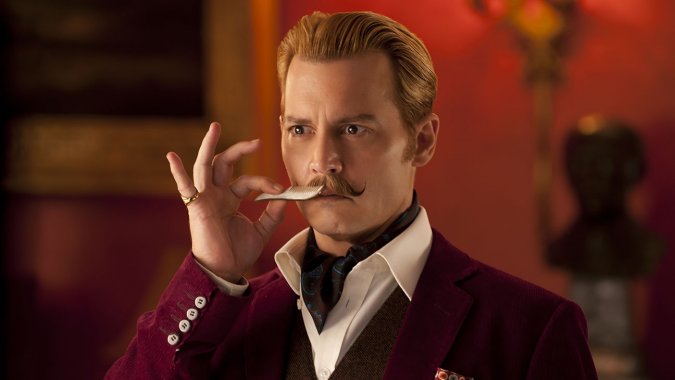 Box Office: Johnny Depp's 'Mortdecai' Bombing; 'American Sniper' Massive
Johnny Depp's newest film, Mortdecai, is bombing at the North American box office, where it may have trouble hitting $7 million for the weekend.
The $60 million film is even losing to The Boy Next Door, a psychological thriller starring Jennifer Lopez, which is pacing to debut to $16.5 million, putting it at No. 2 behind goliath American Sniper, now in its second weekend.
From Clint Eastwood, American Sniper could earn as much as $55 million in its second weekend for a domestic total of nearly $200 million. Sniper, from Warner Bros. and Village Roadshow, has galvanized Middle America, as well as benefiting from six Oscar nominations, including best picture and best actor (Bradley Cooper).
Mortdecai marks Depp's third dud after Transcendence and The Lone Ranger (he does have a small role in box office win Into the Woods, now in theaters), and is one of the worst showings of his career.
Lionsgate and OddLot Entertainment had high hopes for Mortdecai, directed by David Koepp and starring Depp as a debonair art dealer and part-time rogue who races to recover a stolen painting rumored to contain the code to a lost bank account filled with Nazi gold. Gwyneth Paltrow, Ewan McGregor, Olivia Munn, Jeff Goldblum and Paul Bettany also star in the film adaptation of KyrilBonfiglioli's novel Don't Paint that Thing at Me.
Rated R, The Boy Next Door looks to be another win for Universal's deal with Jason Blum'sBlumhouse. Directed by Rob Cohen (The Fast and the Furious), the $4 million film explores what happens when forbidden attraction goes too far.
Also opening this weekend is the George Lucas-produced Strange Magic, an animated family film that may also not open past $7 million, thanks in part to tough competition from Paddington, which looks to place No. 3 in its second weekend with an estimated $12 million.
From a story by Lucas, Strange Magic is an animated romp set in a whimsical land of potions, goblins and fairies that's loosely inspired by William Shakespeare's A Midsummer Night's Dream. The movie, from a story by Lucas, was already in the works when Disney swooped in and boughtLucasfilm in 2012, but Strange Magic was kept on the QT until last fall, when Disney announced a Jan. 23 release. The voice cast includes Evan Rachel Wood, Alan Cumming, Kristin Chenoweth,Maya Rudolph, Sam Palladio, Meredith Anne Bull, Alfred Molina and Elijah Kelley, who sing new versions of pop and classic rock songs.
New offerings at the specialty box office include Cake, starring Jennifer Aniston, and Kevin Macdonald's R-rated submarine thriller Black Sea, starring Jude Law. And Roadside Attractions launches Mommy in four theaters in New York and Los Angeles. The critically acclaimed Canadian drama is directed by Xavier Dolan. Mommy is nominated for an Independent Spirit Award for best foreign film.