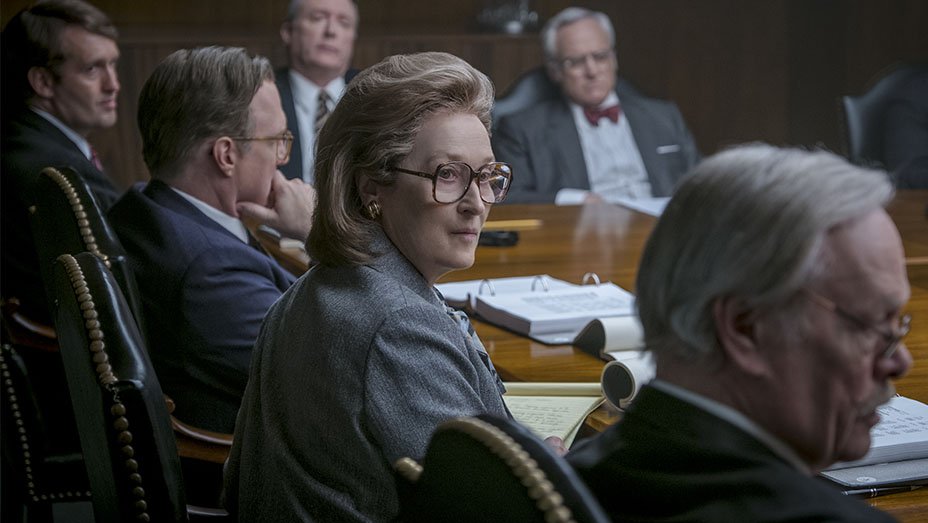 Box Office: 'The Post' Plots Solid Expansion, But 'Jumanji' Remains Atop The Heap
'Paddington 2,' 'Proud Mary' and 'The Commuter' also debut as 'Star Wars: The Last Jedi' surrenders the spotlight.
As the Martin Luther King holiday weekend kicked off, The Post collected $5.9 million, including 775,000 from its Thursday night showings, as it expands nationwide into 2,819 theaters, where it should gross about $21 million for the four-day weekend.
The Steven Spielberg-directed drama recounts how Washington Post publisher Katharine Graham (Meryl Streep) and editor Ben Bradlee (Tom Hanks) joined forces to defy the government and publish the Pentagon Papers. Since opening Dec. 22 in just a handful of theaters, the $50 million film, from Amblin Entertainment and Participant Media, which opened Dec. 22, had collected $4.2 million in its limited release.
But The Post's solid showing won't be enough to dislodge Sony's Jumanji: Welcome to the Jungle from the top spot for the weekend. Directed by Jake Kasdan, the PG-13-rated adventure comedy stars Dwayne Johnson, Kevin Hart, Jack Black and Karen Gillan as the adult avatars of the magical game, based on Chris Van Allsburg's 1981 children's book and first played onscreen in the 1995 movie. Last weekend — its third — the pic demonstrated real staying power as it took in $37.2 million and, after pulling in around $6.2 million Friday, it now looks headed for a four-day gross of $29-30 million.
Meanwhile, Disney's Star Wars: The Last Jedi, which is entering its fifth weekend, gave way to some of the newcomers, as it notched $2.7 million for the day, bringing its cumulative domestic gross through Friday to nearly $583 million.
Lionsgate's The Commuter took in $4.5 million on Friday, including $700,000 from its Thursday preview screenings. Directed by Jaume Collet-Serra (The Shallows), the PG-13-rated action movie stars Liam Neeson as a businessman who gets caught up in a frenzied criminal conspiracy when he meets a stranger (Vera Farmiga) on a train. The first entry in a new, long-term partnership between Lionsgate and StudioCanal, The Commuter opens in around 2,892 locations, including select Imax theaters, and appears headed to about $15 million for the four days.
Sony's Proud Mary, starring Taraji P. Henson as an assassin whose life is altered by a pivotal kill, collected $3.2 million on Friday. Babak Najafi (London Has Fallen) directed the R-rated action pic, which is opening in 2,125 locations. Jahi Di'Allo Winston, Billy Brown, Danny Glover, Neal McDonough,  Xander Berkeley and Margaret Avery are also featured in the $14 million Screen Gems movie, which should pull in about $11-12 million for the four days.
Paddington 2 kicked off its opening weekend grossisng $2.4 million on Friday, including $325,000 from its Thursday previews. The family film from Warner Bros. — which bought North American distribution rights from the beleaguered Weinstein Co. and producer StudioCanal — again centers on the plucky Peruvian bear (voiced by Ben Whishaw) as he and the Brown family team to unmask the thief. The animated/live-action sequel, based on Michael Bond's children's books series that launched in 1958, also stars Hugh Bonneville, Sally Hawkins, Jim Broadbent, Peter Capaldi, Hugh Grant and Brendan Gleeson. Paul King again directs the movie, which could pull in around $13 million for the four days from 3,702 sites. Already out in the U.K., it has already collected $125.2 million abroad to date. The first Paddington grossed $25.5 million domestically in its debut weekend, and altogether collected $268 million during its theatrical run.
Jan. 12, 6 p.m.: Updated to include Friday estimates
Jan. 13, 8:15 a.m.: Update to include Friday grosses.
Source: hollywoodreporter.com