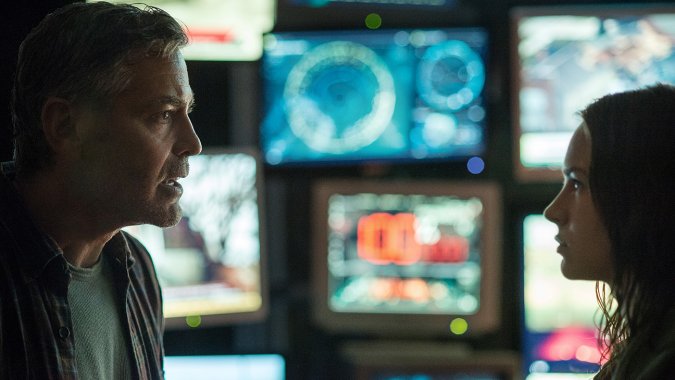 Box Office: 'Tomorrowland' Faces Bleak Future After Soft $41.7M Debut
Brad Bird's Tomorrowland suffered one of the worst Memorial Day starts in recent memory for an all-audience tentpole, marking a rare miss for an otherwise empowered Disney.
The big-budget fantasy adventure, starring George Clooney and Britt Robertson, debuted to $41.7 million in North America over the four-day weekend, the lowest opening for a big-budget tentpole since Prince of Persia: The Sands of Time launched to $37.8 million in 2010.
More problematic, Tomorrowland was even weaker overseas, grossing $26.7 million from 65 markets. (In their second weekends, Pitch Perfect 2 and Mad Max: Fury Road beat Tomorrowland's $2.1 million debut in the U.K. with $4.3 million and $2.2 million, respectively). Another key test for Tomorrowland will come on Tuesday when it opens in China.
Overall, Memorial Day box office revenue in North America was down more than 15 percent from last year, when X-Men: Days of Future Past opened to $90.8 million. It could be the worst Memorial Day weekend since 2010, or, if Monday traffic is especially bad, since 2001. In 2010, total revenue only reached $192.7 million after Prince of Persia: The Sands of Time opened to $37.8 million, andSex and the City 2, to $36.8 million.
As of now, industry observers put 2015 Memorial Day revenue between $192 million and $193.5 million, but an official figure won't be released until Tuesday. In 2001, holiday revenue for the four days only reached $181.7 million.
Tomorrowland will need to overcome its so-so B CinemaScore and enjoy strong word of mouth in order to end up in the black, considering the live-action fantasy adventure cost $180 million to produce. The last time Disney stumbled with a big-budget summer tentpole was in 2013 with The Lone Ranger, which opened to just $29.2 million.
In Tomorrowland, Clooney stars as an inventor who takes along a spirited teen (Robertson) to an alternate world called Tomorrowland. Tomorrowland, an ode to Walt Disney's hopes for creating a utopian society, also stars Hugh Laurie and was co-written by Bird and Damon Lindelof. The film skewed slightly male (51 percent), while families made up 30 percent of ticket buyers, and adults 61 percent.
Disney distribution chief Dave Hollis said that while the opening was disappointing, he believes Tomorrowland will begin to galvanize the family audience, noting that it's the only PG title until next month. "This morning, our numbers were a little better than what we thought on Sunday. We knew we had an original IP property and that it would take a beat for people to find it. And with kids beginning to get out of school, we are in a great position," he said.
Heading into the long holiday weekend, most expected Bird's film to gross between $45 million and $50 million for the four days domestically, giving it a wide lead over Pitch Perfect 2.
Instead, the race was much closer than expected as Pitch Perfect 2 continued to sing in perfect tune, taking $38.5 million in its second outing for an 11-day domestic total of $126 million for Universal. Overseas, Universal's female-fueled sequel took in another $15.2 million from only 37 markets, pushing its global total to nearly $190 million.
Disney still remains the early king of summer to date, thanks to Avengers: Age of Ultron. From Disney and Marvel Studios, the superhero tentpole jumped the $400 million mark at the domestic box office on Sunday, becoming the first film to achieve that feat since The Hunger Games: Catching Fire and Frozen, both released in November 2013.
hollywoodreporter.com