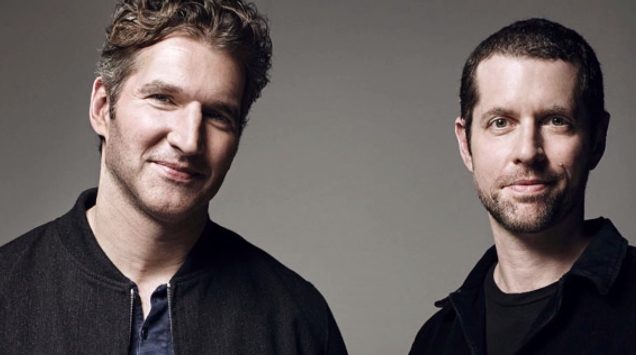 'Game of Thrones' creators tapped to create new series of 'Star Wars' films
They just keep coming and coming.
The Star Wars universe shows no sign of slowing down anytime soon (for better or worse) as Disney and Lucasfilm have just unveiled that the minds behind HBO's epic Game of Thrones — David Benioff and D.B. Weiss — have been hired to write and produce a new series of films set in a galaxy far, far away.
"In the summer of 1997 we traveled to a galaxy far, far away, and we've been dreaming of it ever since," Benioff and Weiss said in a joint statement via Entertainment Weekly. "We are honored by the opportunity, a little terrified by the responsibility, and so excited to get started as soon as the final season of Game of Thrones is complete."
This series of films are not the same as the series that Star Wars: The Last Jedi director Rian Johnson will be developing in the future. That's right, we've got two separate spin-off series on the way — along with Episode IX, Solo: A Star Wars Story and a handful of other one-offs and spinoffs.
"David and Dan are some of the best storytellers working today," said Kathleen Kennedy, president of Lucasfilm, via Entertainment Weekly. "Their command of complex characters, depth of story and richness of mythology will break new group and boldly push Star Wars in ways I find incredibly exciting."
In addition to Game of Thrones, Benioff has also written 25th Hour, Troy, The Kite Runner, and X-Men Origins: Wolverine (we won't hold that last one against him, though). Weiss has almost strictly worked on Game of Thrones.
I'm of two different mindsets on this news. On one hand, Star Wars is about to become over-exposed to the point of exhaustion. The episodic trilogy is great and all, but this….this seems like a lot of Star Wars. If we spend too much time in this galaxy, that magical grip the world has on us begins to fade. I'm of the opinion that even making a Han Solo spinoff was unnecessary — but having two separate Star Wars series after that? That might be too much.
It's also disappointing that, with all these announcements, Disney has mostly failed to add some diversity into their directors. Fans have long been clamoring for Ava DuVernay to be handed a Star Wars film, and this seems like it could have been the perfect opportunity. Instead, it ends up going to two more white guys (not white walkers, mind you).
That being said, we've all seen Game of Thrones and know how exciting of a show it is. The idea that Star Wars could get a similar treatment — one with all kinds of mythology and climatic battle scenes — is an intriguing one, making it understandable why Kennedy would have gone after Benioff and Weiss.
There's no release date for these new Star Wars films as of yet, but it will likely be after Game of Thrones wraps their final season in 2019.
Source: thecelebritycafe.com