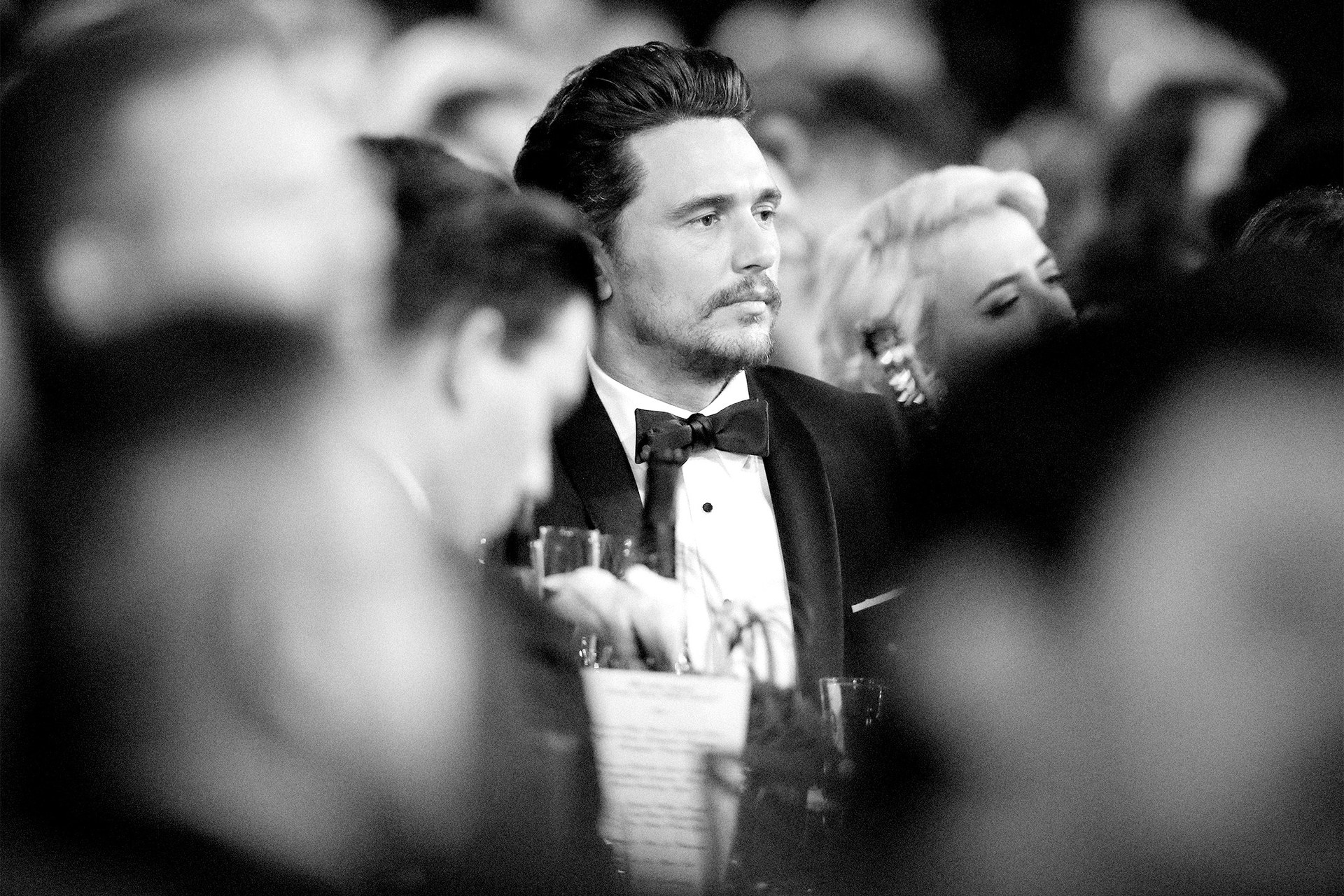 James Franco Is Reportedly "Relieved" About His Oscar Snub
One of the biggest surprises on Oscar-nominations morning was the omission of James Franco. The multi-hyphenate, who directed and starred in the critically lauded comedy The Disaster Artist, was well on track to get a best-actor nod for his kooky portrayal of cult filmmaker Tommy Wiseau. But just days before Oscar voting wrapped up, allegations of inappropriate and sexually exploitative behavior surfaced against Franco, derailing his awards-season campaign. (Franco, via his attorney Michael Plonsker, denied the accusations.) According to at least one source in the know, though, Franco is content with the Academy's decision not to nominate him.
"James is disappointed in not getting an Oscar nomination, but also very understanding and somewhat relieved," an unnamed source told E! News following the announcement. "He doesn't want it to look like the snub is correlated with the allegations against him." (Oscar-nomination voting opened January 5 and closed January 12; the first public allegations against Franco came January 7, the night of the Golden Globes.)
The source added that Franco is currently "trying to get through this rocky patch and hopes everything will blow over appropriately. He is really leaning on his family right now and trying to stay under the radar as much as possible." Per TMZ, the actor has also been out and about in Hollywood, recently grabbing lunch with comedian Jeff Garlin. Representatives for Franco have not yet responded to Vanity Fair's request for comment.
Before the Los Angeles Times published details of the allegations against him on January 11, Franco tried taking a more public route toward damage control. After murmurs about his alleged behavior took over social media during the Globes (where Franco won best actor), he spoke openly about the rumors in a late-night interview with Stephen Colbert.
"I pride myself on taking responsibility for things that I've done," Franco said. "I have to do that to maintain my well-being. I do it whenever I know that there is something wrong or needs to be changed. I make it a point to do it. The things that I heard that were on Twitter are not accurate, but I completely support people coming out and being able to have a voice because they didn't have a voice for so long. So I don't want to shut them down in any way. It's, I think, a good thing, and I support it."
He also spoke about Ally Sheedy, who tweeted about Franco on Globes night, vaguely insinuating that he had done something sinister. "I have no idea what I did to Ally Sheedy," Franco said. "I directed her in a play Off-Broadway. I had nothing but a great time with her. Total respect for her. I have no idea why she was upset. She took the tweet down. I don't know. I can't speak for her."
Since then, Franco has kept a low profile, but the stories about him have only grown louder. Two of his accusers—Violet Paley and Sarah Tither-Kaplan—spoke to Good Morning America on Oscar-nominations morning, while Scarlett Johansson called him out during a speech at the second Women's March after the nominations were revealed. "I want my pin back," she declared, referencing the Time's Up pin he wore to the Globes. Meanwhile, Franco's sister-in-law, Alison Brie, gave this diplomatic response when asked about his situation at the SAG Awards on Sunday: "I obviously support my family and not everything reported has been fully accurate. But of course now is a time for listening and that's what we're all trying to do."
Source: vanityfair.com