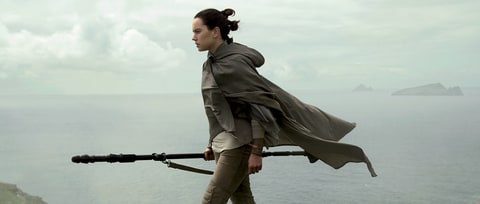 Jedi Confidential: Inside the Dark New 'Star Wars' Movie
The cast and director of 'The Last Jedi' on the story's secrets, a disaffected Skywalker and a death in the family
A long time ago, a grade-schooler got his hands on a spaceship. He followed the assembly instructions as best he could, snapping on the cannons, the landing gear, the tiny interstellar-chess table. Soon enough, Rian Johnson was holding his very own Millennium Falcon. "The first thing I did," he recalls, "was throw it across the room, to see how it would look flying." He grins. "And it broke."
Johnson grew up, went to film school, made some good stuff, including the entertainingly twisted 2012 sci-fi drama Looper. He's nearly 44 now, though his cherub cheeks and gentle manner make it easy to picture the kid he was (too easy, maybe – he's trying to grow back a goatee he shaved); even his neatly pressed short-sleeve button-down has a picture-day feel. In late October, he's sitting in an office suite inside Disney's Burbank studios that he's called home for many months, where a whiteboard declares, "We're working on Star Wars: The Last Jedi (in case you forgot)." Johnson is the film's writer-director, which means he ended up with the world's finest collection of replacement toys, including a life-size Falcon set that nearly brought him to tears when he stepped onto it. He treated it all with what sounds like an intriguing mix of reverence and mischief – cast members keep saying nothing was quite what they expected. "I shook up the box a little bit," he says, with that same grin.
Meanwhile, back in the real world, everything is broken. In the months since the franchise stirred back to life in 2015's The Force Awakens, it has felt rather like some incautious child grabbed civilization itself and threw it across the room – and, midflight, many of us realized we were the evil Empire all along, complete with a new ruler that even latter-day George Lucas at his most CGI-addled would reject as too grotesque and implausible a character.
Weirdly, the saga saw it all coming – or maybe it's not so weird when you consider the Vietnam War commentary embedded in Lucas' original trilogy, or the warnings about democracy's fragility in his prequels. In the J.J. Abrams-directed The Force Awakens, a revanchist movement calling itself the First Order assembles in Triumph of the Will-style marches, showing the shocking strength of an ideology that was supposed to have been thoroughly defeated long ago. What's left of the government is collapsing and feckless, so the only hope in sight is a band of good guys known as the Resistance. Familiar, this all sounds.
"It's somewhat a reflection of society," acknowledges the saga's new star, Daisy Ridley, who plays Rey, and who has gone from unknown London actress to full-blown movie star nearly as fast as her character went from desert scavenger to budding Jedi. "But also it is escapism, because there are creatures and there are people running around with fucking lasers and shit. So, I think, a wonderful mix of both."
And the worse the world gets, the more we need that far-off galaxy, says Gwendoline Christie, who plays stormtrooper honcho Captain Phasma (as well as Game of Thrones' Brienne of Tarth): "During testing times, there's nothing wrong with being transported by art. I think we all need it. Many of us are united in our love for this one thing."
The Last Jedi, due December 15th, is the second episode of the current trilogy, and advance word has suggested that, as in the original middle film, The Empire Strikes Back, things get darker this time. But Johnson pushes back on that, though he does admit some influence from the morally ambiguous 2000s reboot of Battlestar Galactica (which is funny, because Lucas considered the Seventies TV show a rip-off and urged a lawsuit – long since settled – against it). "That's one thing I hope people will be surprised about with the movie," Johnson says. "I think it's very funny. The trailers have been kind of dark – the movie has that, but I also made a real conscious effort for it to be a riot. I want it to have all the things tonally that I associate with Star Wars, which is not just the Wagner of it. It's also the Flash Gordon."
As of late October, almost no one has seen it yet, but Johnson seems eerily free of apprehension about its prospects. He exuded a similar calm on set, according to Adam Driver, who plays Han and Leia's Darth Vader-worshipping prodigal son, Kylo Ren. "If I had that job, I would be stressed out," he says. "To pick up where someone left off and carry it forward, but also introduce a vocabulary that hasn't been seen in a Star Wars movie before, is a tall order and really hard to get right. He's incredibly smart and doesn't feel the need to let everyone know it." ("It felt like we were playing the whole time," says Kelly Marie Tran, cast as the biggest new character, Rose Tico.) A few weeks after we talk, Lucasfilm announces that Johnson signed on to make three more Star Warsfilms in the coming decade, the first that step outside of the prevailing Skywalker saga, indicating that Disney and Lucasfilm matriarch Kathleen Kennedy are more than delighted with Last Jedi. And Kennedy's not easily delighted, having recently replaced the directors of a Han Solo spinoff midshoot and removed original Episode 9 director Colin Trevorrow in favor of Abrams' return.
The Force Awakens' biggest triumph was the introduction of new characters worth caring about, led by Rey and Kylo Ren, plus the likes of John Boyega's stormtrooper-defector Finn, Oscar Isaac's Poe Dameron and more. Kylo Ren (born Ben Solo) lightsaber-shanked Harrison Ford's Han, depriving Johnson of one coveted action figure – but the film left us with Carrie Fisher's Princess Leia, now the general who leads the Resistance, and the climactic reveal of Mark Hamill's now-grizzled Luke Skywalker.
The Last Jedi will be Fisher's last Star Wars movie. In the waning days of the cruel year of 2016, she went into cardiac arrest on an airplane, dying four days later. Less than a month afterward, 500,000 or so people assembled in Washington, D.C., for that city's Women's March, and Leia was everywhere, in posters bearing her doughnut-haired image circa 1977, with accompanying slogans ("A Woman's Place Is in the Resistance" was, perhaps, the best).
Johnson had grown close with Fisher, and is glad to hear that I visited her psychedelically decorated Beverly Hills house a couple of years back, where she did almost an entire hilarious interview prone in bed. Afterward, she cheerily cracked jokes about drugs and mental illness in front of a visiting Disney publicist. "You got to experience a little bit of that magical sphere that she created," says Johnson, who went over the script with her in that same bedroom. "I'm happy I got to poke my head into that, briefly, and know her even a little bit."
He left her part in the film untouched. "We didn't end up changing a thing," says Johnson. "Luckily, we had a totally complete performance from her." So it is now Abrams who has to figure out how to grapple with Fisher and Leia's sudden absence. (He is characteristically gnomic on the matter: "It's a sad reality," he says. "In terms of going forward … time will tell what ends up getting done.")
Overall, Johnson enjoyed what seems like an almost unfathomable level of autonomy in shaping The Last Jedi's story. He says no one dictated a single plot point, that he simply decided what happens next. And he's baffled by fans who are concerned by the idea that they're "making it up as we go along": "The truth is, stories are made up! Whether somebody made this whole thing up 10 years ago and put it on a whiteboard and we all have to stick to that, or whether we're organically finding it as we move forward, it doesn't mean that any less thought is being put into it."