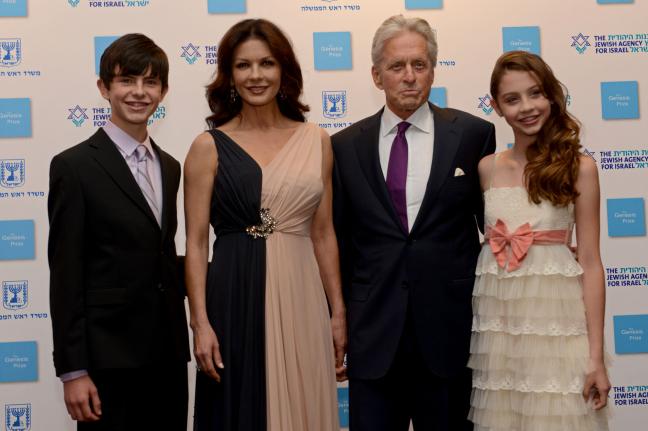 Michael Douglas, Catherine Zeta-Jones walk red carpet with their kids
Michael Douglas and wife Catherine Zeta-Jones made a rare public appearance with their children Thursday.
The 70-year-old American actor and 45-year-old Welsh actress walked the red carpet with 14-year-old son Dylan and 12-year-old daughter Carys at the 2015 Genesis Prize awards, where Douglas was awarded the titular honor.
The Genesis Prize recognizes individuals who "have attained excellence and international renown in their chosen professional fields" and "inspire others through their engagement and dedication to the Jewish community and/or the State of Israel."
Douglas' paternal grandparents were Jewish immigrants, and son Dylan celebrated his bar mitzvah last year. Genesis Prize Foundation chairman Stan Polovets lauded, "The Douglas family's experience of connecting with its heritage and embracing it on their own terms embodies an inclusive approach for Jews of diverse backgrounds."
Zeta-Jones and her children looked on as Douglas accepted the honor, which includes a $1 million prize, from Israeli Prime Minister Benjamin Netanyahu. The award is considered the "Jewish Nobel Prize" due to its emphasis on service and advocacy.
Douglas and Zeta-Jones married in Nov. 2000 after welcoming Dylan in August, and Carys followed in Apr. 2003. The couple separated for several months in 2013, but confirmed they have officially reconciled on The Ellen DeGeneres Show in April.
Douglas will next appear in Marvel film Ant-Man with Paul Rudd, and is scheduled for Unlocked with Orlando Bloom. Zeta-Jones will star in Griselda Blanco biopic The Godmother with Jon Bernthal and a movie remake of BBC sitcom Dad's Army with Michael Gambon.