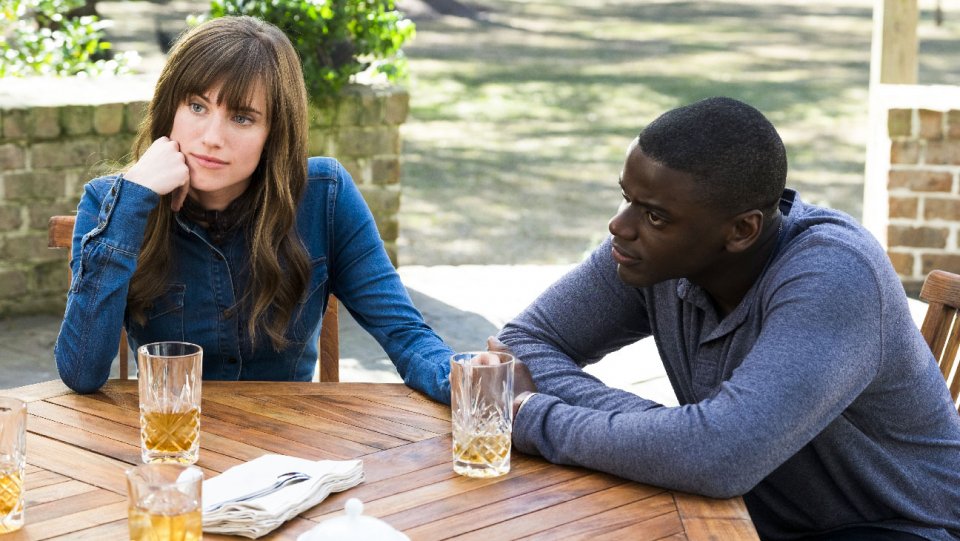 WGA Awards: 'Get Out,' 'Call Me by Your Name' Among Winners
'Veep' and 'Handmaid's Tale' were the big winners on the TV side.
In keeping with the current mood of Hollywood's creative community, the 2018 Writers Guild of America West Awards was largely focused on rewarding projects that flexed the power of using a voice to either shed light and understanding on subjects too long dismissed, ignored or marginalized, or to critique, satirize or allegorize unjust social conditions or political agendas.
The proudly defiant sentiment resulted in big wins for perspective-rich projects such as Get Out (original screenplay) Call Me by Your Name (adapted screenplay), The Handmaid's Tale (drama series and new series), Veep (comedy series), Flint (original longform program), Big Little Lies (adapted longform Program), Last Week Tonight With John Oliver(comedy/variety talk series) and Saturday Night Live (comedy/variety sketch series)
Along the way, there was plenty of both playful and pointed jabs at the rapidly changing entertainment industry itself, beginning with L.A. host Patton Oswalt's opening line to the assembled screenwriters, producers, directors and actors in the Beverly Hilton Hotel's International Ballroom, in a nod to the current wave of corporate mega-consolidation: "Good evening, fellow Disney employees." (The WGA Awards were handed out Sunday night at simultaneous ceremonies in New York and Los Angeles.)
Oswalt also pointed out that from his reckoning it was the 2008 writers strike that led producers "who had to make their alimony payments" to desperately scramble to seek out no-scripted content including The Apprentice," the reality competition series that made a household name and "launched the unchecked ascent" of President Trump.
"The best way to make comedy without writers was to point cameras at assholes," Oswalt noted. "The next time you think of taking away writers' jobs and developing a show without a true scribe, I want you to imagine one thing.… President Theodore Nugent. And never fuck with writers again."
Later in the show, Oswalt welcomed California's U.S. Congressman Adam Schiff, who's made headlines of late battling for declassification of the Democratic rebuttal to the infamous Republican-crafted memo claiming FBI surveillance abuses, thus far stymied by Trump.
"Adam has written the hottest spec script in town. And he can't get his boss to read it," quipped Oswalt.
WGA West president David A. Goodman also didn't shy away from hot topics in his remarks, pledging to throw the guild's support firmly behind battling sexual harassment, and adding, self-reflectively, that "I'm tired of the president of the WGA being a white Jewish male."
"I ran for this position unopposed — I'm not beloved," noted Goodman. "If you're tired of being led by a guy who sounds like Ray Romano and looks like the guy from the Subway commercials, get involved, stay involved and lead."
Comedienne Kathy Griffin, appearing as a presenter, also added an element of danger to the proceedings with a lengthy preamble that left some in the crowd squirming and some cheering: nine months after experiencing a powerful backlash and loss of work after posting a photo of herself with a simulated decapitated head of Trump on social media, Griffin led with faux-thanking "all the powerful writers and showrunners in this room for fucking no support. Where the fuck have you been? I was supposed to thank everyone for their support — no one's lifted a finger."
Griffin also decried the fact that her writing has been limited to "shitty, low budget cable my whole career," due to, in her view, her gender and her age, and pointed out that she also holds records for writing more stand-up comedy specials — 23 — than anyone else, male or female, but none of them were union. "I hope that we can bridge that gap," she said.
"I want you to learn from my experience, because if you think it can't happen to you, it can, and it can happen like that," she said with the snap of a finger. "You may have hated that photo, and that's OK, but if one of your 12-year-old kids puts it on Twitter, they shouldn't have to be under a two-month federal investigation, be on the no-fly list, be on the Interpol list."
In New York, host Amber Ruffin (Late Night With Seth Meyers) made sure to emphasize what she told The Hollywood Reporter ahead of the ceremony would be her theme for the evening: diversity.
"If you thought that there has been too much focus on minorities and women these past few months, then you are about to have a bad time," Ruffin said shortly into her opening monologue. "Because all night long I'm gonna be like, 'Lady, lady, lady, black, black, black….'"
Indeed, most of her subsequent jokes were about the state of black women in Hollywood, touching on the wave of sexual misconduct allegations that have rocked the entertainment industry over the past few months.
"This year has been a confusing year to work in entertainment. Men have had to adjust to a world in which sexual harassment is no longer tolerated and women have had to adjust to a world where people believe us," Ruffin said.
Later in her monologue, she took a moment to applaud Meyers for making her the first black woman to write on a network talk show, calling Meyers "the first woke late-night host." That said, she insisted that Robin Thede, also in attendance, would be the "most woke late-night host." And she invited Thede, Meyers and fellow late-night hosts Jordan Klepper and John Oliver to do body rolls. But she had a different message for L.A.-based late-night host Bill Maher, instructing him to "Go fuck yourself." Later when Maher's writers' names came up as Thede was reading the nominees for best comedy/variety talk series, the audience audibly booed.
Ruffin, who's known for participating in Late Night's "Jokes Seth Can't Tell" segment, then launched into her own version of the concept, singing about risque jokes that she "shouldn't tell," even though, she said, she'd likely be forgiven as a black woman.
Such jokes: "Black-ish, what the water is still like in Flint, Mich…. Dunkirk has come under fire for having too many white men, or as it's commonly known, a writers room…. People were shocked there was no nomination for the movie Girls Trip. Next year's sequel is sure to win: Girls Trip 2: We're Slaves This Time."
Later in New York, Tracy Morgan and Rachel Dratch helped the WGA East honor Tina Fey and Robert Carlock (Saturday Night Live, 30 Rock, Unbreakable Kimmy Schmidt) with the Herb Sargent Award for Comedy Excellence.
Morgan, who claimed to be a classically trained thespian until Dratch insisted he didn't need to pretend to be someone he's not just to impress a room full of writers, said of the pair, "Anyone who's ever trusted them has not been disappointed. I know I haven't. It's been one of the best relationships of my life. They'll do anything for you. Although they won't give you a kidney. I know. I've asked them many times."
In all seriousness, though, Morgan said of his two colleagues and friends, "I think I speak for a lot of folks out there when I say that it's not only been a pleasure to say their words, but to be around their genius. I love them so much. Robert came to see me after the accident and Tina did, too, and I love you for that. Thank you so much. That meant a lot to me."
And then, paraphrasing one of his 30 Rock character Tracy Jordan's famous catchphrases, Morgan joked, "I love you so much, I want to take you out back behind a middle school and get you pregnant."
Dratch summarized the pair's impressive comedy history, separately writing some of SNL's most memorable sketches, working together on "Weekend Update," running 30 Rock, creating Unbreakable Kimmy Schmidt and, she joked, their lesser-known feat of crafting "a line of very flammable athleisure wear for JC Penney."
Source: hollywoodreporter.com