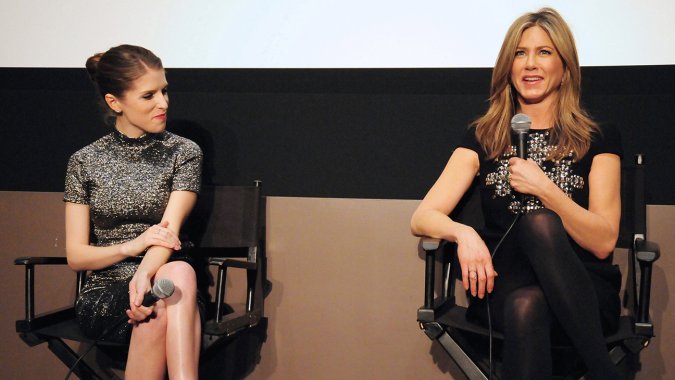 Jennifer Aniston, Anna Kendrick Talk 'Cake' Satisfaction and Superhero Roles
Seated at the front of Lincoln Center's Francesca Beale Theater, Jennifer Aniston and Anna Kendrick reflected on the joys of making independent film, particularly amidst the big-budget projects in which they frequently appear.
"We approach our work the same, by doing as honest and true of a job to what the character it is," said Aniston to an audience that had just seen her turn as pain-ridden Claire in the upcoming Cake. "If it's playing a sexually-addicted deviant dentist [as in the Horrible Bosses films], then I will play that with all my heart, or someone who's in a different kind of support group."
See more Jennifer Aniston Pops a Lot of Pills and Bribes With Vodka in the New 'Cake' Trailer
For Aniston, an independent film like Cake allows for more creative freedom and, in turn, greater self-expression as an actor. "We have thousands of crazy characters in our heads, just banging to get out of the closet; it's just whether or not we're given the opportunity to do it. Sometimes we are, and sometimes you have to bang your drum a little louder and take bigger risks. I find that so fun." She aimed to demonstrate the kind of emotional range and physicality that she "hadn't been able to do in a long, long time, really, if ever."
Kendrick noted that Aniston's involvement as both executive producer and star was a huge deciding factor in signing on for Cake. "I honestly felt more excited about the idea of her doing it then anybody else I can think of," she said. "When I would say I was doing a movie with Jennifer and tell what it was about, people were surprised, and that made me really excited."
She also praised Patrick Tobin's script. "I loved that it didn't underestimate its audience. It didn't hand you information, and I feel like that's one of the great weaknesses of most scripts I read," the Into the Woods actress explained. "To discover organically is so much more exciting and so much smarter and keeps you much more engaged."
When asked by moderator Annette Insdorf about further involvement directing and producing, Aniston answered emphatically. "That's a bug that gets you once you do it. We're just waiting for the proper window of time and the proper piece of material. There has been a beautiful project that was about to happen that ended up falling apart for all sorts of reasons. … Maybe it's being a control freak, I don't know, but wanting to be a part of a seed and seeing it turn into something wonderful is exciting. It's fun to explore other areas of our industry other than being an actor-for-hire. It's quite fulfilling."
Read more Jennifer Aniston on 'Cake,' Typecasting and Not Wanting to Talk About BS Anymore
Kendrick, meanwhile, showed less enthusiasm for such an endeavor. "You're out of your mind. I think it demands so, so much of you. The day that a story makes me go, 'Yeah, I want to give at least two years of my life to tell this story knowing that it could all be for nothing and it could turn out to be a piece of crap,' then I will do that."
As the evening — presented by THR and Film Society of Lincoln Center — concluded, the final audience question asked which characters Aniston and Kendrick would most like to play. "I think what we really want to do is work with great people, tell great stories about extremely wonderful, complicated human beings and the human experience." Aniston said.
Yet she still added, "I really do want to be a superhero, too. I've said it! But wouldn't that be fun?"
Source: hollywoodreporter.com