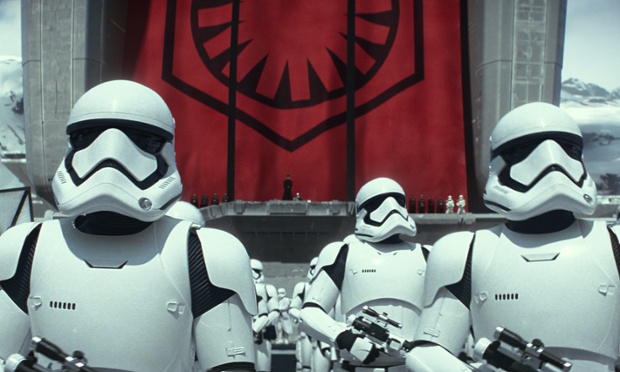 Vanity Fair's Star Wars issue: six takeaways about The Force Awakens
JJ Abrams' Star Wars: The Force Awakens is only seven months away from cinemas, and despite the film-maker's reputation for holding his cards close to his chest, details are beginning to emerge. Thanks to the magic of the internet (and the magazine's own leaks) we'd learned from the new issue of Vanity Fair thatLupita Nyongo'o plays a CGI pirate, Adam Driver is weird, lightsaber-wielding villain Kylo Ren, and JJ Abrams is seriously considering killing off Jar Jar Binks (by way of a sly "Easter egg"). But the full digital edition of the magazine's Star Wars issue has now gone online, and we've been sifting through the space detritus like a band of scavenging Jawas for further titbits. Here's what we found.
George Lucas wanted the new trilogy to focus on teenage characters
We already knew that the Star Wars creator had his own ideas sketched out for Episodes VII, VIII and IX, which were delivered to Disney prior to the studio's $4.05bn purchase of all rights to the long-running space saga in October 2012. But Vanity Fair reveals exactly why the new creative team decided to jettison Lucas's plans. Abrams and Lucasfilm tell the magazine that the original storylines would have focused on characters in their teenaged years. And the new creative brain trust in charge of developing future Star Wars films decided this wasn't going to wash, given that nine-year-old Anakin Skywalker and 14-year-old Queen Amidala proved about as popular as a dinner date with Jabba the Hutt, in 1999's The Phantom Menace.
Original screenwriter Michael Arndt left after failing to deliver so much as a draft of the script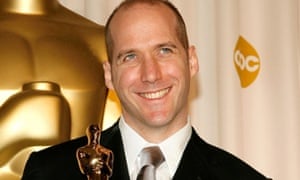 'Moment of despair' … Michael Arndt. Photograph: Vince Bucci/Getty Images
When the screenwriter of Toy Story 3 and Little Miss Sunshine was hired by Disney in 2012, the reaction from fans was generally positive. Here was the guy who famously dissected the classic denouement of 1977's Star Wars, revealing how Lucas skilfully resolved the story's internal, external and philosophical arcs immediately after a "moment of despair", therefore delivering an "insanely great ending" (in Luke's destruction of the Death Star) and leaving the audience in a euphoric state. But by January 2013, when Abrams came on board to direct, the film-maker tells Vanity Fair there was "a ton of ideas and outlines, a lot of cards on the wall, a lot of writing on whiteboards", but no screenplay.
The final script was rewritten by Abrams and Lawrence Kasdan from page one
The Vanity Fair piece suggests Abrams took full creative control of the storyline, working with The Empire Strikes Back writer Lawrence Kasdan during pre-production in London on an entirely new draft. "We said: 'Blank page. Page one. What do we desperately want to see?'" Abrams tells the magazine. Adds Kasdan: "We didn't have anything. There were a thousand people waiting for answers on things, and you couldn't tell them anything except, 'Yeah, that guy's in it.' That was about it. That was really all we knew." So tight was the schedule that the pair were still working on the script at Pinewood while extras in stormtrooper gear were being drilled around them.
The Force Awakens is not just a nostalgic paean to the early films
"It's sort of like going to a concert where you want to hear the new stuff that they've written, but really you want to hear some of the old songs," Kasdan tells the magazine. "And we're in a similar kind of thing: we're getting the band back together, and we know that people are going to want to be reminded of the things they love, but they're going to expect to have a new experience."
Even so, it sounds like the team are being careful about repeating the errors of the prequel trilogy by adding too much in the way of digital polish. Vanity Fair describes one alien creature reminiscent of the Jawas, which Abrams describes as "a classic, old-school seesaw puppet", that pokes its head out of a sand dune on a desert planet. The film-maker apparently pooh-poohed the idea of adding CGI during an effects session the magazine witnessed, suggesting: "It's so old-school and crazy. We could improve this thing, but at some point do we lose the wonderful preposterousness?"
Han Solo might be less grumpy this time around
Abrams gently suggested that Harrison Ford should play the wily old space smuggler Han Solo a little differently in The Force Awakens, given the three-decade gap since the events of 1983's Return of the Jedi. "I knew that he had done in some [later, non-Star Wars] movies a kind of more growly thing, and I didn't want Han to be growly," the director tells Vanity Fair. "But because of the backstory I wanted him to have evolved somewhat. I mean, when you're in your late 60s, you're not the same person you were in your late 20s, and yet he had to be the character we know and love. So it was a balance that felt sort of emblematic for me in terms of this whole experience, which is it had to be what you know, but it can't be exactly what you know."
Ford's injury gave Abrams time to get the movie right
When the actor broke his leg on set only a month into the Pinewood Studios shoot, it meant production was held up for weeks. But the disruption turned out to be a blessing in disguise, with Abrams given time to rethink troublesome sequences and Ford himself returning full of vim.
"In a weird way," Abrams reveals, "it was the greatest gift to the movie that, once it was clear Harrison would be okay, the way that the crew came together. I've never seen a crew bonded like that.
"And when Harrison came back, when I say he came back better and stronger than ever, I can't overstate that. There was a fire in his eyes that you see in the movie … Anyone I've talked to who's worked on a movie has said every movie should have a break after the first month or so of shooting to regroup."
theguardian.com